Vilon 20mg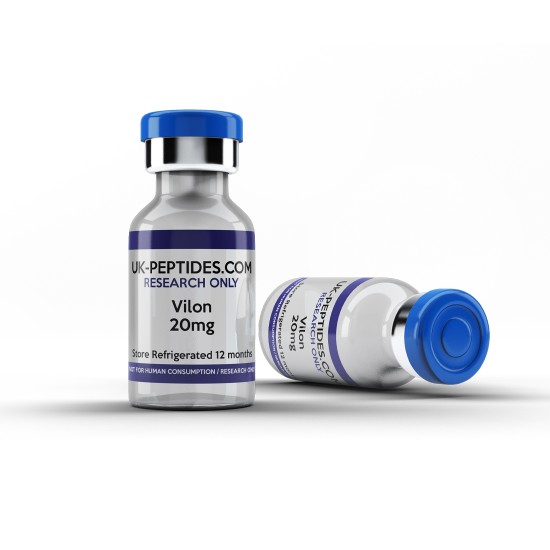 New
*Image for illustration purposes
Vilon 20mg
Stock:

74

Model:

Vilon 20mg
5 or more 55.10€
10 or more 49.30€
25 or more 43.50€
Vilon is a high-quality, research-grade Lysylglutamine peptide designed for various scientific applications. This dipeptide, consisting of lysine and glutamine amino acids, is synthesized to meet the highest purity standards.
Vilon Peptide
Vilon is a dipeptide composed of amino acids lysine and glutamic acid. It also goes by the name 'lysglutamic acid.'(1) It is the shortest peptide suggested to possess potential action in the immune system, possibly mitigate cancer cell proliferation, and potentially induce anti-aging action, working on crucial organs such as the liver, heart, and kidney. Vilon appears to exert its potential by possible interaction with the chromatin structure.
Vilon peptide may exhibit the following actions on chromatin:(2)
Possibly unrolls the chromatin structures
May activate ribosomal genes stimulating the synthetic process
May release inactive genes
May not decondense the chromatin situated on each side of the centromere of chromosome
Through it's potential action on the chromatin, Vilon may host potential to alter DNA structure to reactivate the genes and cells that have gone 'silent.'


Molecular Information
Molecular Formula: C11H21N3O5
Molecular Weight: 257.30 g/mol
PubChem CID: 7010502
CAS No: 45234-02-4
Alternative Names: Lysylglutamate, normophthal, Lyslglutamic acid
Key Features
High Purity: Manufactured under stringent quality control measures to ensure a minimum % purity level of 99%.
Stable Formulation: Comes in a lyophilized form for long-term stability and easy reconstitution.
Batch-to-Batch Consistency: Rigorous testing ensures that each batch meets quality and performance standards.
Main Uses in Research
Enzyme Assays: Vilon is an ideal substrate for enzymes like transglutaminase, making it indispensable in studying enzyme kinetics and mechanisms.
Protein-Protein Interactions: It is extensively used in assays that study the binding affinities and interactions between proteins.
Cell Culture: Vilon can be used as a supplement in cell culture media to enhance cell growth and viability.
Metabolic Studies: This peptide is crucial for understanding amino acid metabolism, protein synthesis, and other cellular processes.
Pharmacological Research: Vilon is being investigated for its potential therapeutic properties, including anti-inflammatory and neuroprotective effects.
Safety and Storage
Store at -20°C for long-term storage.
Always handle with care and use appropriate safety measures to ensure safe usage.
Note
This product is intended for research use only and is not suitable for human or veterinary use.
All products listed and supplied by UK Peptides are strictly for research purposes only. We neither advocate nor support the personal usage of these products.
Products offered by UK Peptides are not intended for inclusion in food items or to be used as any form of medication. Our products are not designed to treat, prevent, lessen or cure any health condition or disease; they are solely for research purposes.
Please remember improper usage of these products can be harmful. Therefore, professionals must handle our products in a controlled environment for scientific research and study.