DNSP 11 5mg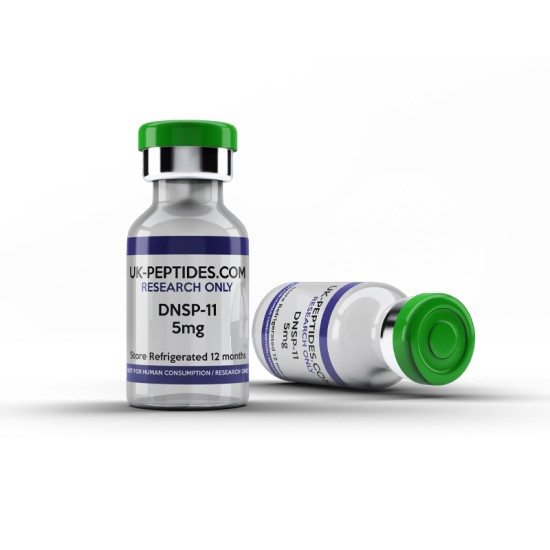 New
*Image for illustration purposes
DNSP 11 5mg
Stock:

38

Model:

DNSP 11

Molecular Formula:

DNSP 11

Research use only:

DNSP 11
5 or more 89.32€
10 or more 87.00€
Sequence: PPEAPAEDRSL-NH2
Molecular Formula: C50H81N15O18 • xC2HF3O2
Molecular Weight: 1180.27 g/mol
Peptide Purity: Greater than 98%
Additional Information: No TFA Salt
Parkinson's disease (PD) is the second most common severe neurodegenerative disorder, often characterized by the degeneration of dopaminergic neurons in the substantia nigra pars compacta (SNpc). Current treatments only manage symptoms and do not offer neuroprotection or neurorestorative.
Neurotrophic factors like glial cell line-derived neurotrophic factor (GDNF) have shown promise in animal models for the protection and restoration of damaged dopamine neurons. However, the delivery and synthesis of such factors present challenges.
DNSP-11, a short 11-amino acid amidated peptide derived from the proGDNF domain, has been studied for its neurobiological effects. In animal models, a single injection of DNSP-11 into the substantia nigra led to increased resting dopamine levels and its metabolites 28 days post-injection. Furthermore, DNSP-11 demonstrated significant behavioural improvements in severe PD models in rats.
In vitro studies indicate that DNSP-11 supports the survival of primary mesencephalic neurons and neurite outgrowth. It also shows protective effects against cell death induced by various agents, as evidenced by reduced levels of caspase-3 activity and TUNEL-positive cells.
In summary, DNSP-11 may target similar molecular mechanisms as other compounds under investigation for PD. These findings suggest that DNSP-11 possesses neurotrophic-like properties, making it a subject of interest for further research in the context of neurodegenerative disorders.
All products listed and supplied by UK Peptides are strictly for research purposes only. We neither advocate nor support the personal usage of these products.
Products offered by UK Peptides are not intended for inclusion in food items or to be used as any form of medication. Our products are not designed to treat, prevent, lessen or cure any health condition or disease; they are solely for research purposes.
Please remember improper usage of these products can be harmful. Therefore, professionals must handle our products in a controlled environment for scientific research and study.