P21 (P021) 5mg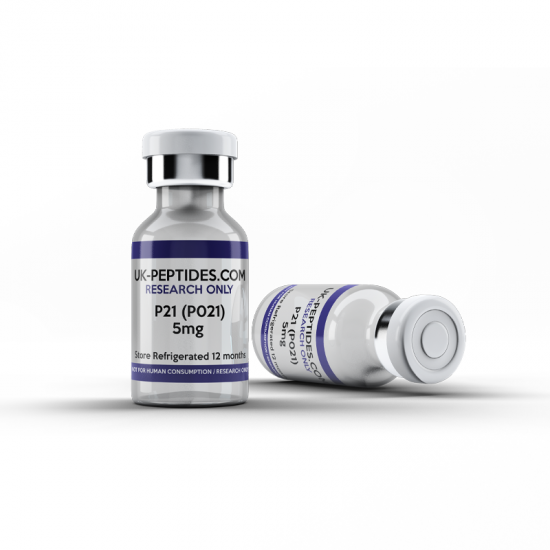 *Image for illustration purposes
P21 (P021) 5mg
Stock:

241

Model:

P21 (P021) 5mg

Molecular Formula:

P21

Code:

P21-23

Research use only:

Yes
5 or more 54.52€
10 or more 49.88€
P21 is a nootropic peptide targeting improved neurogenesis. In animal studies, P21 has been shown to boost levels of BDNF (brain-derived neurotrophic factor), thus promoting neurogenesis (a nerve growth) and inhibiting the formation of Amyloid plaques and Tau proteins seen in Alzheimer's disease. BDNF has been linked not just to enhanced neurogenesis but to the downregulation of certain enzymes responsible for tau and amyloid plaque formation in Alzheimer's brains. P21 has been shown to improve cognition in animal models

It is occasionally known by: P21, P021,

Unit Quantity: 1 vial
Unit Size: 5mg
CAS: #
Catalogue number: P21-023

UK-Peptides Products are sold strictly for research purposes only. Please do not ask about human consumption as this is forbidden.
Physical and chemical properties
Molecular Formula
C30H54N6O5
Molecular Weight
5358.05 g/mol
Physical Appearance
white lyophilised solid
Purity
>99%
Peptide Sequence
Ac-DGGL-adamantane-G
Form & Formulations
Sterile filtered white lyophilized (freeze-dried)
Solubility
Aqueous soluble
Storage
Lyophilized peptides although stable at room temperature for 3 months, should be stored desiccated below -18°C. Upon reconstitution of the peptide it should be stored at 4°C between 2-21 days and for future use below -18°C.
Analytical Data
HPLC
Shows min 99% Purity
Mass Spectrum
Consistent with structure
Research use
Caution
Research use only / Not for human or veterinary use
All products listed and supplied by UK Peptides are strictly for research purposes only. We neither advocate nor support the personal usage of these products.
Products offered by UK Peptides are not intended for inclusion in food items or to be used as any form of medication. Our products are not designed to treat, prevent, lessen or cure any health condition or disease; they are solely for research purposes.
Please remember improper usage of these products can be harmful. Therefore, professionals must handle our products in a controlled environment for scientific research and study.